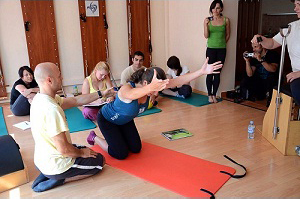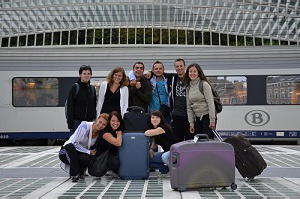 Visit to the program Leonardo da Vinci (LdV) for development of vocational education end training in Europe, integration of the social partners, the personal development of individuals in the labour market, was held in June, august and September the 2011.
Mobility entitled »International education of experts of modern training methods, especially in the field of rehabilitation, healthy lifestyles, fitness, Pilates and aerobics to obtain a European Certificate« in Hungary, Nederland and Italy was attended employed and unemployed members of the associations for Fitness, Pilates and aerobics Bodifit, as a professional organization that regularly works with organizations approved by the Ministry of Education and Sports-FZS. Participants of mobility are specialist colleagues of Arthron-Institute for joint and sports injuries and active members of the Sports federation of Maribor and University of federation sports in Maribor. International cooperation builds as professional members of EAFA-European association for fitness and aerobics and Pilates Institute in England.
The main objective of the project with the acronym, »BODIMOBIL«, is the education of young trainers and acquisition of European Certificate in the field of modern training methods, especially in the field of rehabilitation, healthy lifestyles, fitness, Pilates and aerobics and usage of acquired knowledge, skills and qualifications in the Slovenian and European Area.
Bodifit ("Being fit") association for fitness and aerobics, established in Maribor, is group of trainers in the field of new methods for physical rehabilitation and development - from instructors, demonstrators, athletes and health professionals, who successfully complement their experiences with theory and would like to actively cooperate and exchange trainers with other European centres.
Bodifit is a member of EAFA, FFS, SFM and USFM, through which it has an overview of innovation and knowledge in the field of its expertise. Bodifit organizes courses, workshops and lectures for the enthusiasts and experts on the topic of healthy lifestyles, nutrition, fitness, aerobics, Pilates, protection against improper workouts and injuries. It wants to ensure its members international mobility after the completion of education because it sees it as a long-term benefit for all. 
The Mobility was related to the theme of healthy lifestyles, fitness, Pilates and aerobics with emphasis on rehabilitation and nutrition. In their work, participants are confronted with difficulties, which are despite the increasing emphasis of modern training methods as a type of rehabilitation, still unknown in Slovenia. They are aware, that in health care and well-being, both physical therapy and fitness are very important. The educational program in this area in Slovenia is not developed and such knowledge cannot be obtained. For that purpose, the participants decided that they will acquire education and training in three different countries, with the aim of obtaining internationally recognized certificates in the field of medical fitness, Pilates and aerobics, with emphasis on rehabilitation. Improvements to the fitness, Pilates and aerobics program as a form of exercise that gives greater emphasis on rehabilitation are possible only through cooperation and networking of various professionals at local, regional, national and international level, which is one of the objectives of the mobility program. 
The host organizations were carefully selected on the basis of analysis of participants' needs, offered knowledge, and desire to visit organizations in different fields of trainings–to which Bodifit gives a greater meaning and wants to fully develop them in Slovenia. 
Participants have chosen three organizations in three countries. There are three mobility flows into the internationally recognized organizations in three various fields: 
Fuzy Pilates Institute - HU (Pilates),
Life Style groep - NL (medical fitness),
Area sport Centre - IT (aerobics).
In July and August 2011, 10 participants were travelled to the host organizations. Participants of the mobility are professionals in field of modern trainings methods, especially in the field of rehabilitation, healthy lifestyle, fitness, Pilates and aerobics. They learned new work methods of experts in the field of innovative approaches and methods. All participants have in common that they see advantages in acquiring new vocational skills, the acquisition of internationally recognized certificates, competitiveness in the labour market and the improvement of language skills and learning about different cultures. Participants are convinced that the participants (with the experiences gained from the exchange), will introduce innovative approaches to the Slovenian environment in new areas of work, particularly in the field of medical fitness, Pilates and aerobics with emphasis on rehabilitation. They will be able to start an international exchange of work and knowledge.