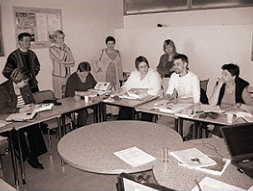 The LdV mobility project SOPRA is a continuation of the Leonardo da Vinci pilot project »Social Return«, which has set the foundations of the holistic approach to treatment and training of persons with special needs, on the basis of comparison of approaches in the Netherlands, Iceland, Italy, Lithuania, and Slovenia. All project partners in the LdV Mobility project SOPRA continue to work in this field and confirm the results of previous pilot project.
In the one-week workshop, the visits to Icelandic institutions were combined with exchange of experiences with other participants in mobility projects (from Lithuania and the Netherlands). We were able to learn about the results directly from the participants, trained on the courses during the former project. In our group there were three participants with special needs from courses in Slovenia, who now continue their work and act in a double role – as previous candidates and now as educators. The mobility project includes organizations that have already been involved in the previous project. In this way we put together a permanent bridge to continue the work started years ago. Our goal is to spread knowledge of instructors and organizers of trainings involved in setting up educational models for people with special needs in all involved countries. We investigated how successful was the applied knowledge improvement method, and the quality of life of persons who are receiving this knowledge in trainings and in adjusted courses.
Workshop was organized by a partner organization from Iceland. Educators, organizers and people with special needs from all partners' countries participated in it. The workshop was held at the end of September 2007 in Reykjavik in organisations (the reports are attached) which are dealing with the training and rehabilitation of persons with special needs. Integral parts of the visit were presentations of the work done by persons with special needs. We conducted our presentation on the last day of the workshop and reaped a lot of interest among participants – among others also Maria Gylfadottir, who is LdV program manager in Iceland and Iceland's Deputy Minister of Social Affairs.