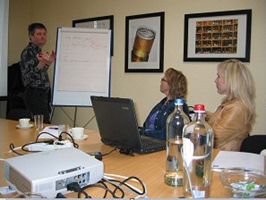 Four partners of the SRPE project have already been involved in the previous pilot project of LdV Prgramme, Social Return (ISL-04-B-PP164002). Atrium was a partner in Social Return and acted as a coordinator of the projects SRPE and Sub-SCRIPT, which present further development of the Social Return project.
Social Return consists of the development, implementation and practical testing with multi-disciplinary and integrated approach to the rehabilitation and training of people in disadvantaged positions. The main result was a handbook describing the approach and the implementation of the methods in practice in 5 countries with excellent results in terms of employment and social integration. 
Project SRPE was conceived as a direct continuation of the Social Return approach. Combination of practical experience and development of additional instruments, which could be included have proved indispensable. One of these instruments is an integrated web platform which bases on reintegration of services, business simulations and functionality of e-portfolio. Services and individual tools have been examined in detail, where possible also tested in practice and evaluated in terms of innovation and added value. Visits to reintegration centres of partners and learning about specific approaches in training and reintegration was the culmination of study visits and the project program. Each partner presented its own set of methods and instruments that represented a new position for other partners and put forward new ideas for further development approach, building upon the achievements of Social Return.
During the visits, and seminars partners presented to each other the possibilities of practical application of the tools. This process strengthened the implementation of the Social Return project. The successful research and needs analysis of SRPE were followed by a successful application and approval of the new LdV Transfer of Innovation project Sub-SCRIPT in Belgium, which will continue to design web reincorporated services based on the Social Return approach, including access to specific functions, such as business simulation and a digital portfolio. Contract Number is 2010-LDV-TOI-509th.